Those ads are so annoying. "I enjoy the Style section while my husband likes Sports!" Anyway, today's Saturday NYTimes delivery contained the Sunday magazine, which contains some great articles and images that we will now link to. 
First off is a revealing photo essay on FLDS women and children by Stephanie Sinclair. 
View it Here: Inside Their World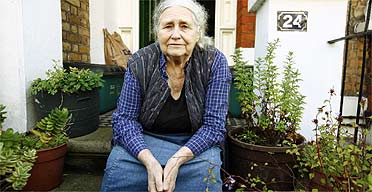 Second, the NYTimes Magazine's weekly interview feature,
Questions For...

this week talks to Doris Lessing,
TG's favorite all time Nobel Prize winner and cranky older lady. She is amazing! Lessing is frank, to the point and takes no crap. When told she won the Nobel prize she commented, ""Oh Christ. I couldn't care less. If I may be catty, Sweden doesn't have anything else. There's not a great literary tradition, so they make the most of the Nobel."
In today's NYTimes interview, Lessing comments:
"I don't think that the feminist movement has done much for the characters of women. I mean, we have produced some monstrous women. What has happened is that given the scope to women to be critical and unpleasant, by God they have taken it...."
Sadly, TG tends to agree. And we are all ladies.
Lastly, Zoe Cassavetes has photographed a lush menswear story for the magazine.
Check it out here